How to Fast Track Your Way into a Fashion Retail Career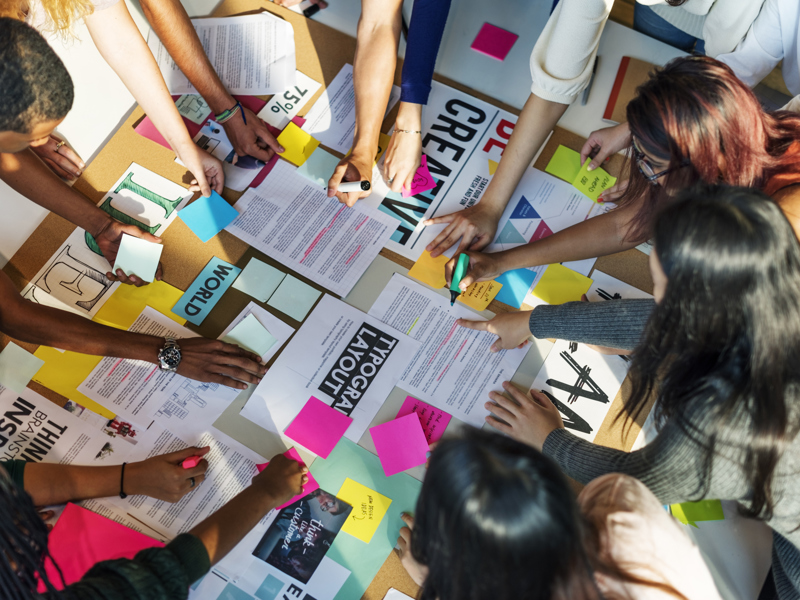 Are you bored in your job role and ready for a change? January is the perfect time for a fresh start, when we all make our New Year's resolutions - eat healthier, do more exercise, or take on a challenge and switch onto one of our fast track courses starting in March!
As all of our fast track courses   take place over six months (22 weeks), they're the quickest and most cost-effective way to make the first step into a fashion retail role, upskill or change disciplines. You'll study two days week, meaning you can still work part-time and advance your career simultaneously.
Our fast track courses are designed to equip you with all of the knowledge and skills you'll need to progress or switch careers in a quicker way than a traditional university degree. If you're looking to graduate in the least possible time and head straight into a fashion retail career, our fast tracks might be the option for you. Read on to find out more about each of our courses.
L4 Fast Track Buying and Merchandising
Buying and merchandising are merging in industry, both are responsible for ensuring a brand delivers the right product to the right customer at the right time by maximising profit and keeping a tight rein on costs. Buyers and Merchandisers have a direct impact on not only a brand's image but its profits, as they decide which specific products a brand stocks both in-store and online. These decisions need to be based on customer buying behaviour, statistical data, and trend analysis.
A Buyer is involved with the product itself. They use their knowledge of the current fashion landscape and competitors to make trends work for the specific vision and customer base of a brand. They'll work closely with the garment from concept to realisation; collaborating with Designers and negotiating deals with multiple suppliers. A Merchandiser concentrates more on the business side of the equation –considering aspects like stock flow and distribution, using sales data to inform decisions, make predictions and measuring success.
As you can see, both Buyers and Merchandisers need a diverse mix of skills, from creative to analytical. They need to not only have a thorough understanding of customer buying behaviours and current trends but understand how to use this knowledge to maximise profits.
To prepare you as thoroughly as possible for a career in buying and merchandising, we cover a wide spectrum of topics from costing and sourcing fabrics to customer profiling. You'll be introduced to the key principles of garment technology – essential for Buyers when working on concepts alongside Designers – as well as data analysis and forecasting buying patterns. Theoretical learning will be balanced with hands-on live projects and masterclasses from some of the best in the fashion business industry.
Budding Buyers and Merchandisers are in high-demand at the moment, making this course a practical and lucrative option. Upon graduation from our fast track course, you'll be well-placed to apply for roles such as BAA (Buying Admin Assistant), Allocator or Sourcing and Supply Chain Assistant.
Find out more about our L4 Fast Track Buying and Merchandising course.
L4 Fast Track Visual Merchandising
This is the ideal course for creative individuals looking to pursue an entry-level position in visual merchandising. Visual Merchandisers decide how stock is displayed and promoted in a store. This might be through shop layout, signage or a window display, and will often change seasonally (don't we all love a seasonal window display?). The aim is, of course, to boost profits and sell as much stock as possible – but a Visual Merchandiser must also balance this with creatively showcasing the brand's identity and values.
To succeed in visual merchandising, you'll need an artistic eye and a flair for colour and creativity – you'll require a knowledge of merchandising principles and the fashion landscape to create something relevant to your target audience. Over the 22 weeks of our course, students are introduced to essential window design guidelines, branding and store environment, concentrating particularly on how individual elements such as typography and fixture placement can help you to construct a successful display. We'll help you to curate a strong portfolio and provide the opportunity to attend masterclasses and invaluable work placements, which will help you to stand out when the time comes to apply for jobs.
Upon graduating, you'll be ready to apply for a diverse range of roles – many begin as a Visual Merchandising Assistant, before progressing to Visual Merchandiser.
Find out more about our L4 Fast Track Visual Merchandising course.
L3 Fast Track Fashion Retail
For those who haven't quite pinned down the specific area within fashion retail they'd like to pursue, our L3 Fashion Retail course is the perfect place to start. This course is designed for applicants who have GCSE's and want to progress to a L4 course, you can complete the L3 and a L4 within a year. It's more general and wide-ranging in scope than our other fast track options, encompassing a collection of key learning areas such as buying, merchandising, marketing and management. Armed with a comprehensive overview of the industry and a better idea of your interests and strengths, you'll be ideally placed to continue onto one of our more specific L4 courses upon completion. Due to the fast track nature of the course, you could start in February and go straight onto a specialist L4 course that September.
The course combines both theoretical and practical skills to give you as much of a well-rounded education as possible. As well as classroom learning around fashion business subjects, you'll undertake a three-week placement with a major high street brand to give you some real-life experience and contacts to draw on. Consider this the very first step in an exciting fashion retail career.
Find out more about our L3 Fast Track Fashion Retail course.
Which one of our fast track courses will you take on in the New Year? If you have any questions about our courses, don't hesitate to get in touch.