Kane McClure on his experience at the Fashion Retail Academy and what he's got up to since leaving…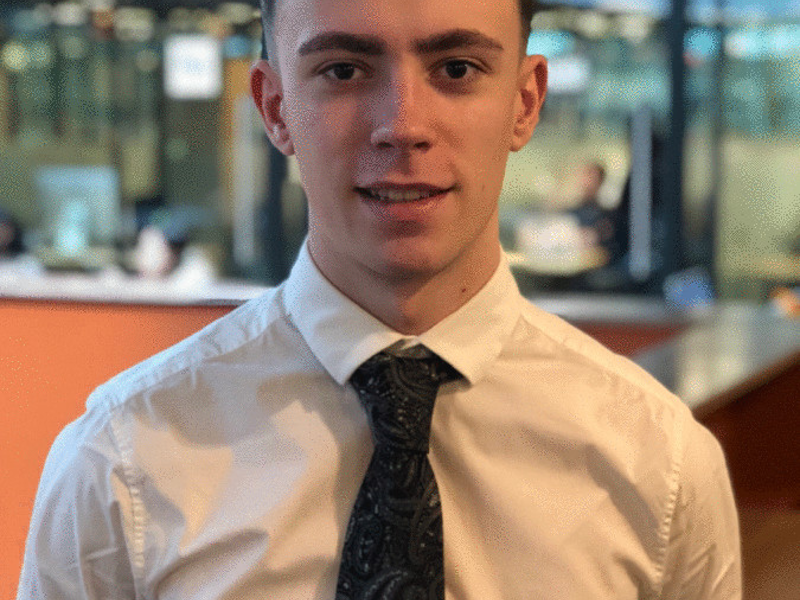 Why did you choose the L2 fashion retail course?
I chose the L2 Fashion Retail course to boost my knowledge of the fashion industry. I felt I needed to understand how the big fashion houses worked, before I got a job in fashion. 
I was also attracted by the masterclasses on offer and the different seminars available within the course. I was able to learn about fashion design as well as the retail side of fashion.
Another great plus of the course, was being able to work with fashion brands whilst studying.
I am a very hands on learner, and having AllSaints designers come in and get us to create an outfit from sketch to design was a great experience - a real insight into what brands actually do on a day to day basis.
What did you learn on the L2 Fashion Retail course?
The L2 Fashion Retail course gave me a good idea into what each role I was interested in, had to offer. It was helpful having the career path of a buyer and merchandiser mapped out by my teachers - as I wanted to see what both these roles had to offer.
I particularly enjoyed learning the psychology behind being a great buyer and why people choose certain types of clothes.
From this, we worked on projects like building an image of a lifestyle for a certain section of society. This is a technique that real buyers run, which really opens your creative side.   
We also practiced techniques merchandisers use, for example the best way to display a shop window. It was great to use what we were learning in theory, and put it into practice.  
I also had much more confidence in the type of job I wanted to go for, and how to apply for it after the course.
Why is studying at FRA good?
The flexibility at FRA made the work life balance a lot easier.  For example, I had classes 3 times a week. Around this, I got a part time job in a high end retail store, which suited my needs.
The teachers were also on hand to help with my work. I would be able to schedule time after classes to chat about topics I didn't understand or ask for advice on careers I was interested in.
I really enjoyed the work environment that was created at FRA, you were never stuck in a classroom for too long.
One trip that stuck out was the time we went to the Burberry directors house. We were given a tour of the latest runway from London Fashion Week, which made you feel like you were a part of the fashion scene.
What did you enjoy most about FRA?
Being surrounded in an environment where people were talking fashion none stop was great.
I had discussions on a daily basis about the latest trends and talking points within the industry. It really did give me more confidence talking about fashion related topics.
The location of the college is a bonus. Being in the centre of London where so many events are going on, popping in to Gucci and Prada was only down the road, it felt like you were immersed in the fashion scene.  
I remember one afternoon, when my friend on the course had tickets to go to a Fendi runway show, which was an unforgettable experience for me.
What have you gone on to do since graduating from FRA?
When I graduated from FRA, I knew I wanted to go into retail merchandising. I looked for internships at start-up companies to gain more experience in beginner roles.
Since November I have been working for fashion start-up Lovethesales.com, that brings all discounted items from other retailers into one place. My internship has covered a number of areas including Online Marketing, Social Media Marketing, but I mainly work as a Merchandiser.
My highlight so far has been working on a revolutionary AI merchandising project at Love the Sales. This is an amazing piece of technology that automatically merchandises products based on their descriptions on retailer websites.
I really got stuck in with the whole team on this project and its allowed me to use the knowledge gained from my course, into a real work environment.
What advice would you have for anyone thinking of doing an FRA course?
I think it's a great option, especially if you are uncertain about what a career in fashion looks like.
I think anyone who has a real interest in fashion will enjoy this course, especially if you are interested in the business side of fashion.
Not only will you start building contacts in the fashion industry, but you will also be studying in the fashion capital of the UK, getting chances to work on projects with designers and brands whilst also meeting like-minded people to go to fashion shows and events with.