The future is bright: why now is the time to get into retail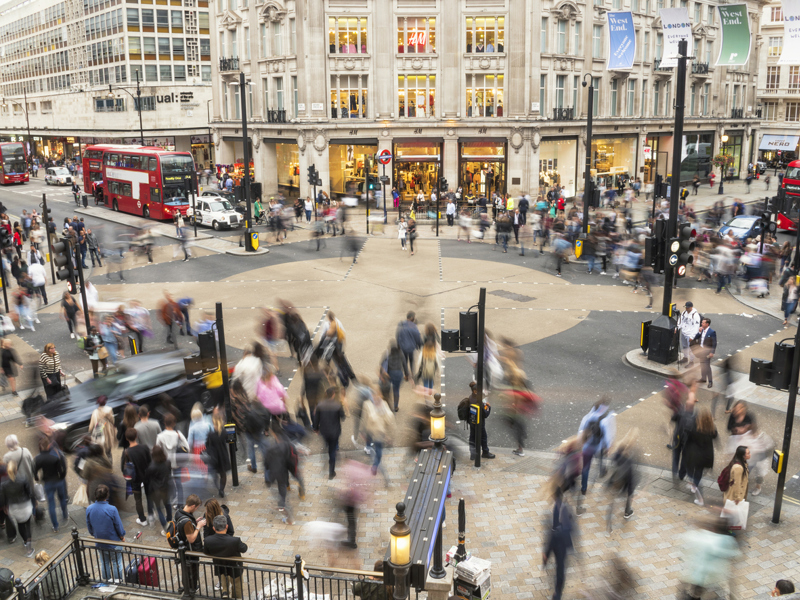 Retail is an innovative, fast-moving and ever-changing sector. Now is an exciting time to carve out your career in the field, as evolving consumer buying habits have created many more – and drastically different – opportunities than ever before.
Recent headlines have announced that retail is on a downward curve. While we'd argue that this certainly isn't the case, it is, however, true to say that the world of retail is changing.
What does the retail landscape look like right now?
Recent closures of some household names have meant that surviving businesses are being forced to become more agile and technologically minded. Rather than a time of challenge, this is more an era of opportunity for innovation from fashion labels and brands.
Just a quick look at the figures makes it clear that retail as a sector isn't going anywhere. Retail currently employs 3.1 million people across the UK – that's a total of 9% of all jobs. This workforce serves a massive 53 million consumers and generated £94 bn in 2017 – a huge driving factor of our economy. 2017 also saw a 4.4% pay increase and £5.4 bn being invested into technology, proving how much of an important factor this will be in the strategy of brands going forward.
How will this change in the future?
In the coming years, we can expect online channels to grow even more, accounting for an ever-increasing amount of sales. More and more consumers will make purchases on their smartphones, creating a push for more digital experts in the head offices of big brands to inform strategy.  Brands will invest more in alternative digital channels as omni channel retailing becomes increasingly important.  Virtual reality, AI and 3D printing are all focus points. In fact, there will be more of an integration between offline and online across the board, creating a more seamless buying experience for customers.
As buyers, we expect convenience. That's why same day delivery will prove to be a trend that only becomes more prevalent as time goes on. It's thought that same day delivery will make up 15% of all deliveries by 2020. As part of the growth of this digital landscape, consumers are looking more and more to online influencers, bloggers and vloggers to inform and guide their purchasing decisions. It's estimated that 92% of consumers trust an influencer over a celebrity. As a result, there's a growth in the number of positions around blogosphere and influencer management.
Interactive retail experiences are having more than a moment and the in-store environment has never been more important – one of the first major players was Ikea with their giant sleepover but the concept of offering customers much more than a shop floor is a major area of growth. Data is a key driver for retailers and to make the online/offline experience seamless brands are looking for ways to collect data in-store to customise the experience.
But we can't forget about the older generations. Those aged over 65 equate to £1 in every £5 that's spent, and that is expected to increase to £1 in every £4 in the next couple of decades.
As we can see, the above figures paint a very different picture to the recent press. As a result of all of these widespread changes, retail will begin to look like a different industry altogether – while the number of stores decreases, warehouses will increase to cater for the demands of online shopping. Some stores will remain but will serve a transformed purpose – becoming more about building brand identity and creating a valuable experience.
Getting into retail
As the above makes clear, in the years to come there's going to be a huge increase in the amount of retail office opportunities rather than jobs on the shop floor. The courses and degrees offered by the FRA mean that you will have a head start in securing one of these exciting roles, whether that's in digital, business, merchandising or buying.  
Our courses are designed to train you for head office roles, rather than shop floor ones. Our connections to the industry mean that our courses are as hands-on as they are theoretical, and you'll gain practical experience through placements, giving you real-world knowledge. We offer six-month diplomas, two-year degrees and short courses you can fit in beside your existing job. To give you more of an idea of the kind of things we offer, here are a selection of our courses: 
BA (Hons) in Buying & Merchandising
If you're looking to get into the competitive fields of buying and merchandising, our two-year, future-proofed degree is the choice for you. A year shorter than traditional three-year degrees but with all the same content, it's also the fastest way to climb that career ladder.
Students will take part in classroom learning as well as specialised projects, and gain insight from some of the most knowledgeable brands in the business in masterclasses. At the heart of both buying and merchandising is the principle of getting the right product to the right customer at the right time, so topics you'll cover include sourcing and supply chain, internalisation, globalisation and brand management.
Find out more out our BA (Hons) in Buying & Merchandising.
BA (Hons) in Marketing & Communications
Products will always need to be marketed in the fashion industry – so you can be assured that it is a stable career to pursue. Fashion marketing can be challenging – but also a great way to exercise your creativity and business skills. Our two-year fast track degree is perfect if you want to fast track into fashion marketing.
During this course, you'll spend three invaluable weeks with a high street brand each year, take part in specialised projects and sit in masterclasses. Topics include marketing fundamentals, creative digital skills, consumer behaviour, promotions, PR and communications.
Find out more about our BA (Hons) in Marketing & Communications
L4 Fashion Business (with Marketing)
If you're unsure which sector of the retail industry you'd like to go into, this one year course is the perfect overview, focussing on introducing you to critical principles. The course contains content that's invaluable to a wide range of roles within the fashion retail industry, giving you fantastic career opportunities.
As part of the L4 Fashion Business (with Marketing) course, you'll also have the chance to undertake a unique three-week placement with a major fashion brand to put your new skills into action in a "real world" setting.
Find out more about our L4 Fashion Business (with Marketing) Course
Why choose the FRA?
All courses take place at our central London campus, in the heart of the UK's retail landscape. We've been rated as Outstanding by OFSTED in all five categories.
We work in parallel with brands to ensure the relevance and value of our content relates to current retail job opportunities, ensuring students are job ready on graduation. Additionally, all of our tutors have left their mark on the industry, giving you unique exposure and experience you can't gain anywhere else.
Our state of the art facilities include a Mac Suites, a pop-up shop to mimic a real retail environment, a fashion filled library and dedicated quiet zones for getting your head down. When you're not studying, you'll be putting your skills into practice with a work placement or on a live project.
Find out more about the retail industry and how you can to hit the ground running with our courses here.