Take part in one of our Virtual Open Days and discover what makes the Fashion Retail Academy unique. 
We design our Virtual Open Days so you can still experience the energy and vibrancy of the Fashion Retail Academy, but from the comfort of your own home. We run them in the same format as an on-site Open Day so you have the chance to listen to our staff and tutors, join in a session and ask questions any questions that you have.
We'll start with a presentation and overview of our courses. We'll explain the benefits of our exclusive relationship with the fashion industry and our brand partners, and give you further details on your chosen subject. You'll also be able to speak to representatives from our key departments and talk to our current students about their experiences via our live chat feature. Follow the steps below to participate.
Event Recordings
Once the event has finished, we'll share a recording of the live event so you can view it again. You can still send messages to our team.
1
Join our Live Sessions
Scroll down to join the live event. We're hosting the session using GoToWebinar. You'll be promoted to view the event via the app, or through your web browser.
2
Specialist 1:1 Chats. 
Our advisors will be on-hand to chat through your requirements and answer your course questions on this page. 
SESSIONS
During the session, you'll hear from our Principal, tutors, current students and alumni. You can also ask questions live for an immediate response.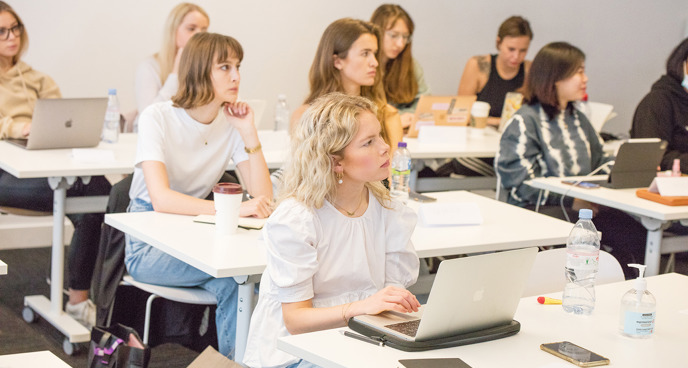 Start time: 18:30
Online Courses
Learn everything you need to know about our online courses, available to anyone aged 18+.
VIRTUAL TOUR
Make your own way around our central London campus building and discover our specialist facilities. You can explore our Lecture Theatre and classrooms, and also take a look inside our design and sewing studios, computer suites and dedicated fashion library.
LIVE CHAT
---
Speak to one of our specialists
We'll have a team of specialists online during and after the live event to answer your questions. Please select the advisor you wish to speak to.
General Information
---
General advice and guidance on the FRA including enrolment and course induction.
Admissions
---
Find out what you need to apply and the simple steps to receive an offer
Careers
---
Talk to the FRACareers Service about job opportunities, progression options and how you can start your dream career.
Fees, Funding & Bursaries
---
Eligibility and application information for travel support, free school meals, bursaries, advanced learner loans and student finance
HELP GUIDE
---
What you'll need – Access to a PC / Laptop / Mobile.
To join our live sessions you'll be required to download / run an application - GoToWebinar. Don't worry it's secure, safe, free and really straight forward to use and will prompt you how to join. This guide provides additional information.
We're running the events online so you will need headphones or speakers to listen to the presentations. You can join sessions online using the instant join browser app or a mobile app. We suggest using the latest versions of Chrome, Firefox, Safari or Edge.
You'll be automatically muted and only presenters will share their video. To start follow these steps below:
Step 1 – Select "Join" the live webinar by selecting the button on the page once the webinar is live. Note: you can only join at the live time posted.
Step 2 – Register your details.
Step 3 – Open the GoToWebinar prompt to launch the desktop application.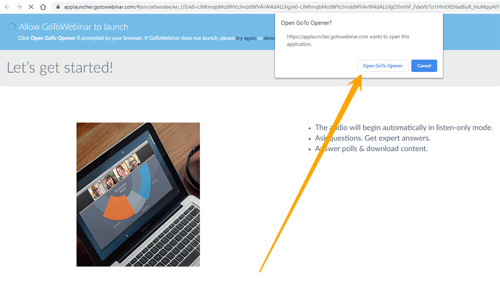 Step 4 – You'll be entered into the event or wait for the webinar to be started by one of the organisers.
Step 5 – Once the webinar has finished return to the page or join another session.
You can join the event from your mobile or tablet. We would recommend downloading the GoToWebinar app in advance to speed up access – follow the links below.
 
To access the event:
Download the app to your device
Return to the event page and select the Join button
The App will open and re-direct you to the register page
Complete registration and join the event
Got a question? Ask away! In the Q & A box, type your question and then press Enter on your keyboard. Your questions will be anonymous to the other attendees in the session.
When your question is answered, it will appear in the Questions pane only to the tutors. Tutors will answer all questions at the end of the session.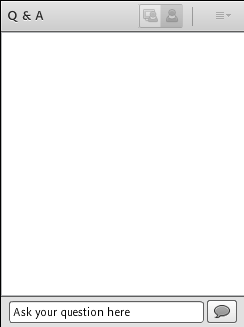 We'll have a team of specialists online during the live event. Please select the advisor you wish to talk to once they are Live. This will open a chat window in the bottom of your screen. Confirm the department dropdown and then await an advisor. We aim to respond as quickly as possible and advisors will be live during the duration of the event. All live chat correspondence is logged in our platform.