In September 2024, the Fashion Retail Academy will be moving to our new campus at Electra House, Liverpool Street.
ELECTRA HOUSE, LIVERPOOL STREET
---
Since the Fashion Retail Academy was founded in 2005, we have been based at our Gresse Street building near Tottenham Court Road. After 18 years, we are moving to our new campus at Electra House in Liverpool Street, London in September 2024 so that we can provide bigger and better specialised creative, learning and communal spaces for our students.
Electra House is twice the size of our Gresse Street campus, meaning that we'll be able to provide even better facilities, launch new courses, and enable more students to join the home of fashion's next generation. Our campus has been designed to encourage a seamless flow between teaching, learning and collaborating.
IMPROVED STUDENT EXPERIENCE
---
COMMUNITY SPACES
There'll be communal space for students to relax in between classes, including the on-site café and the secret indoor garden. There will be new displays and windows throughout the building to showcase and celebrate student work, and we'll have specialised event and exhibition spaces for use during the year. Students will also have access to breakout spaces and degree students have their own dedicated on site speakeasy.
LEARNING AREAS
We're refurbishing Electra House to give our students the best learning environment. We'll have a variety of different learning spaces, including a larger library, six lecture theatres, including two with up to 200-inch screens, and bespoke studio spaces that will give our students more space to create. Students will have access to a photography studio, new digital suites, a creative lab and a discovery nook for group projects and collaboration.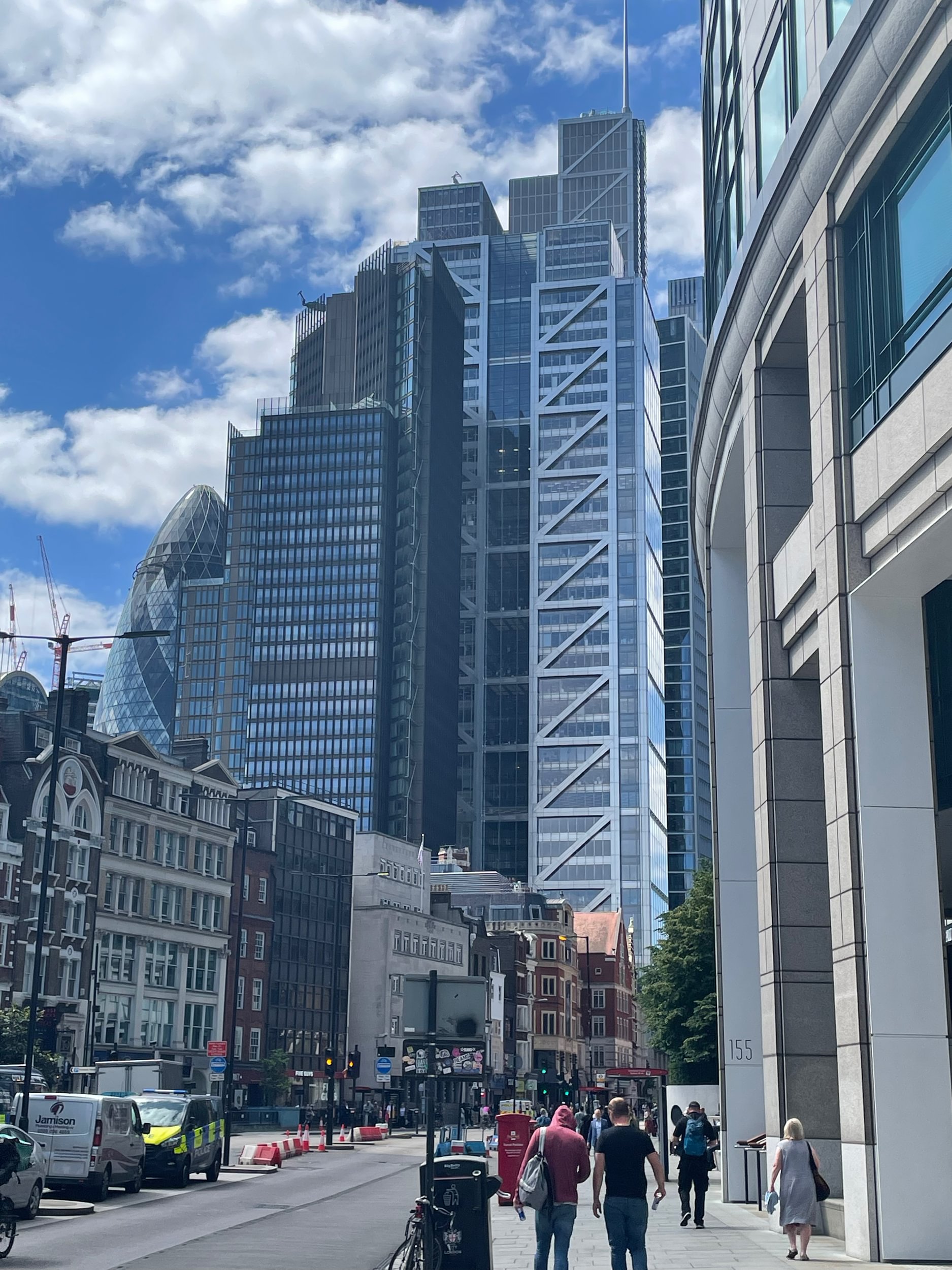 TRANSPORT LINKS
---
Electra House a 5-minute walk away from Liverpool Street and directly opposite Moorgate underground station. 
At Liverpool Street Station, you can catch trains on National Rail, the Overground, TfL Rail and the Central and Elizabeth underground lines. 
The closest tube stations are:
Moorgate - immediately opposite Electra House
Liverpool Street Station - 5-minute walk
Bank - 6-minute walk
We're also easily accessed by tube or bus from Kings Cross, Euston, Charing Cross, London Bridge and Waterloo, and Oxford Street and Bond Street are a 15-minute journey from Liverpool Street Station on the Central line.
Multiple lines stop at Moorgate station, which is the closest bus stop to Electra House.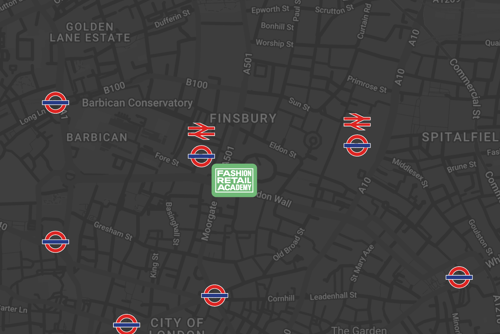 £50MIL RENOVATION
---
Electra House is currently undergoing a £50 million refurbishment, transforming the building into the perfect space for our students to work and learn, together or independently. The renovations are being completed to our exact specifications and to ensure that the Fashion Retail Academy can continue to be the home of fashion's next generation.
Electra House's new study spaces include:
A bigger library and more workspaces 
35 multi-purpose classrooms 
Bespoke studio spaces 
6 lecture theatres 
Dedicated fashion design studio and photography studio
Discovery nook for group work and collaboration
THE FASHION RETAIL ACADEMY CAMPUS
---
Spread over eight floors, Electra House is designed for new ways of working and learning, including separate spaces for group work, individual work and study outside of class, as well as event spaces and new learning areas.
We will have new and improved creative and relaxation spaces such as:
Creative studios and labs  
Fashion Design and Pattern Cutting studios
Specialist exhibition and event spaces
Secret garden
Large library space with desks, window seats and sofas 
*Floorplans are subject to change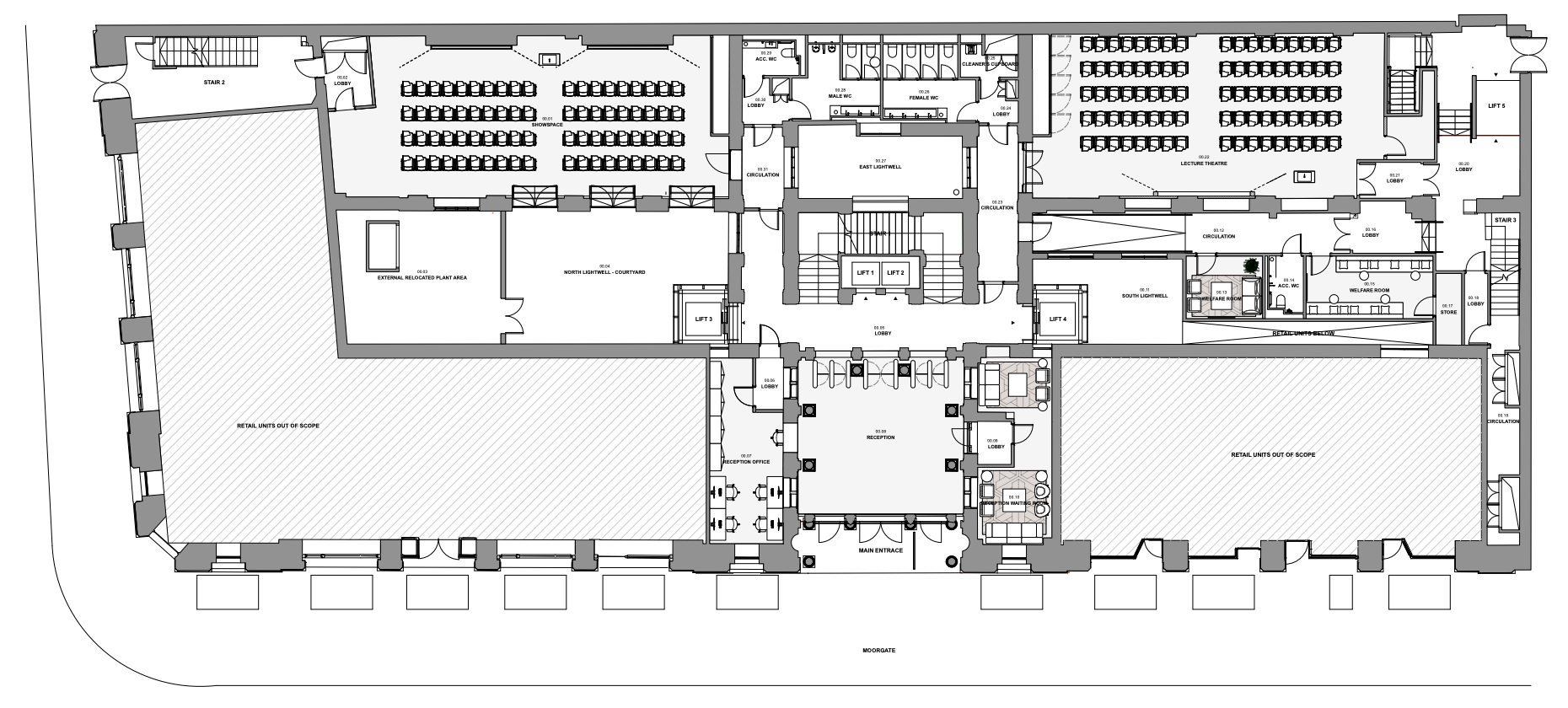 GROUND FLOOR
Entrance Hall
Lecture Theatre
Exhibition Space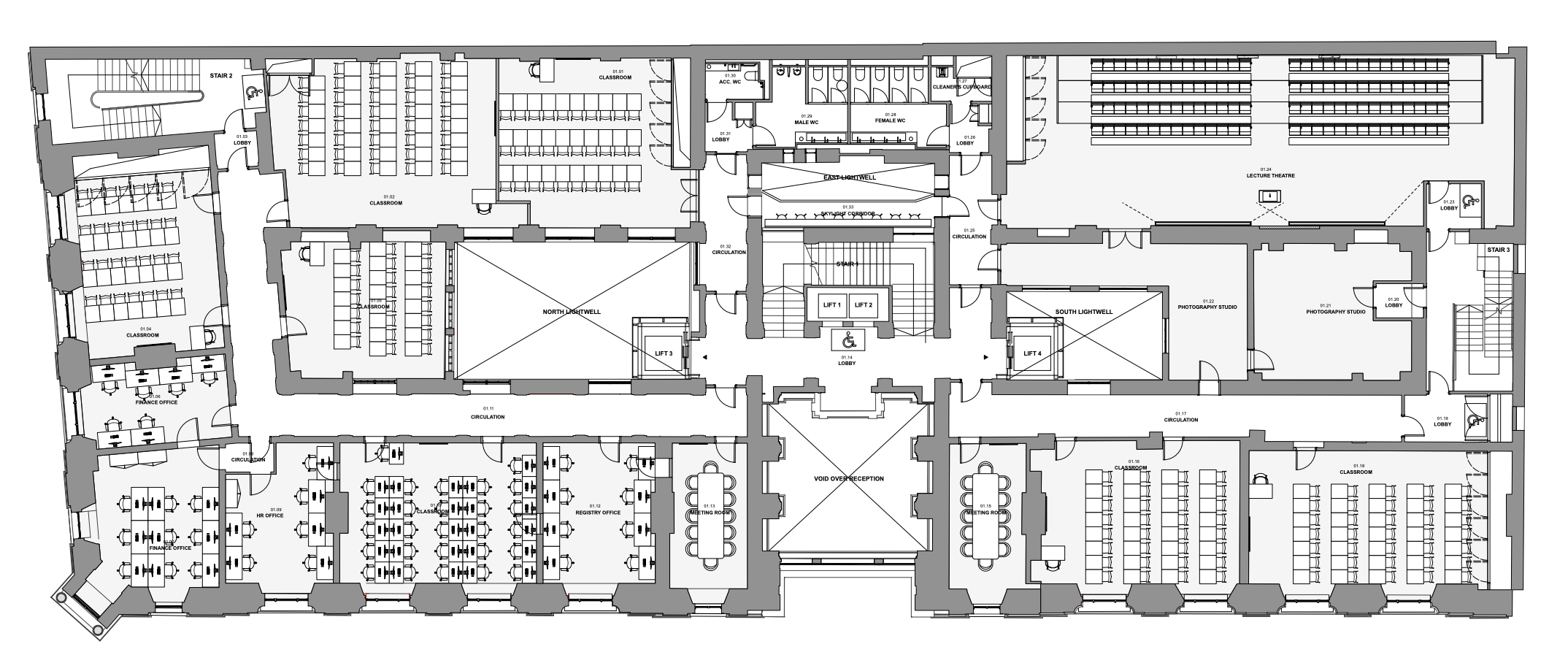 FIRST FLOOR
Classrooms
Lecture Theatre
Meeting Rooms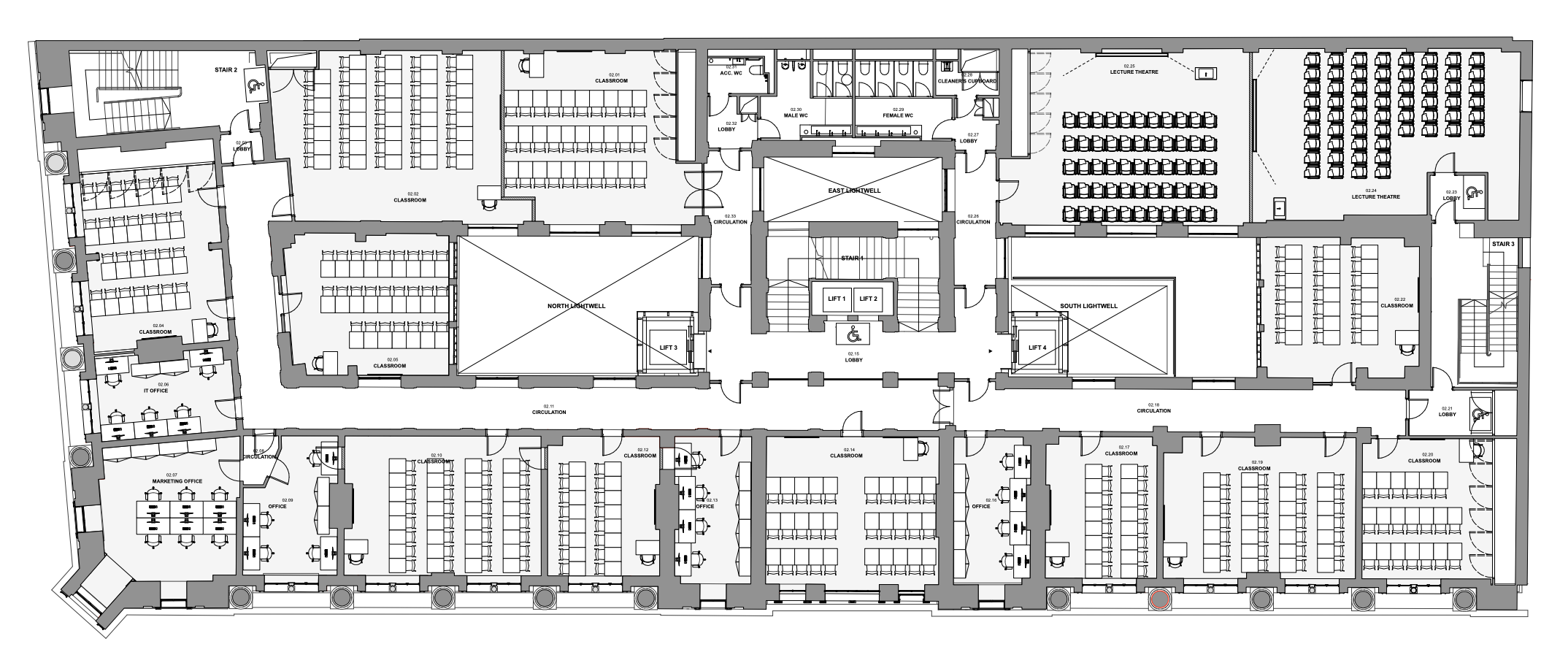 SECOND FLOOR
Classrooms
Lecture Theatres
Staff Offices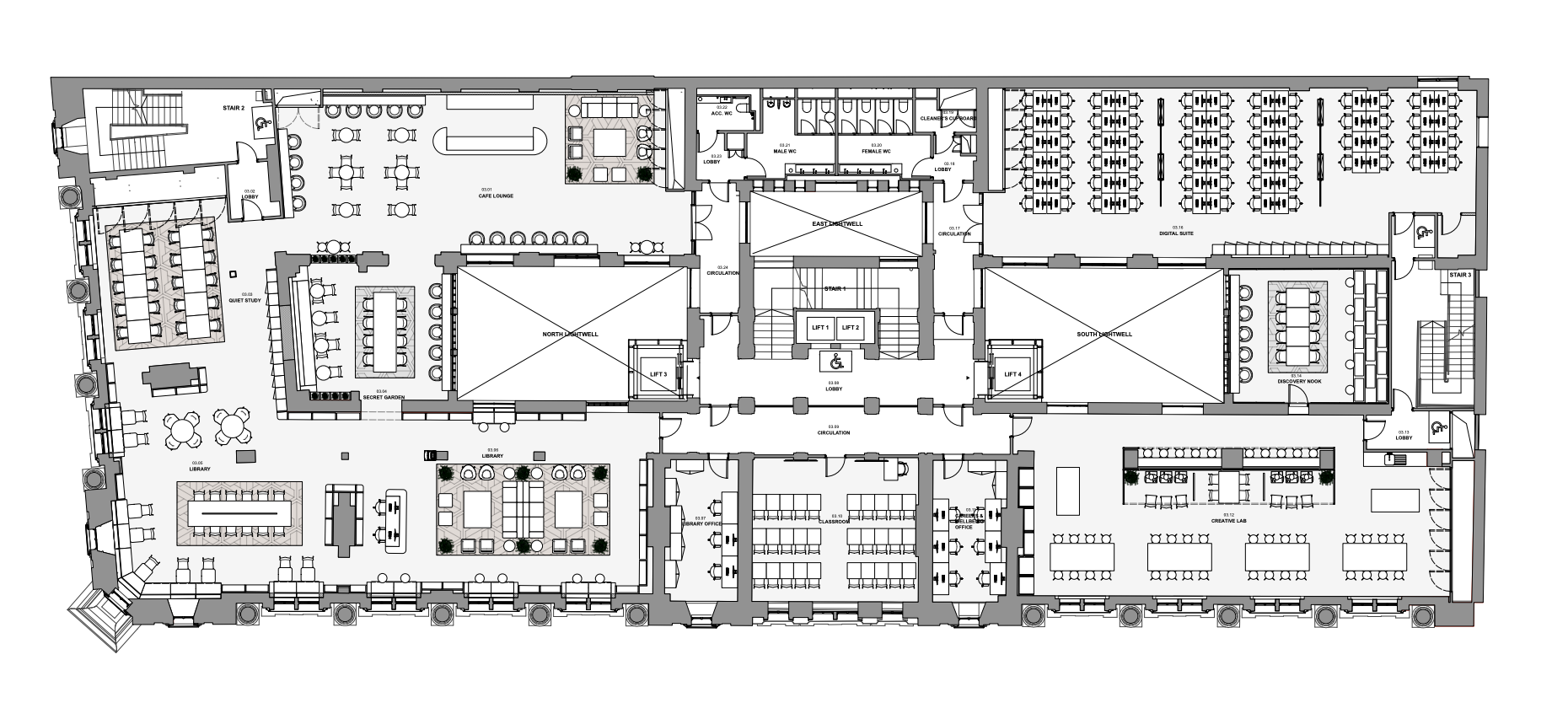 THIRD FLOOR
Cafe Lounge & Secret Garden​
Quiet Study Area​
Library​
Creative Lab & Discovery Nook​
Digital Suite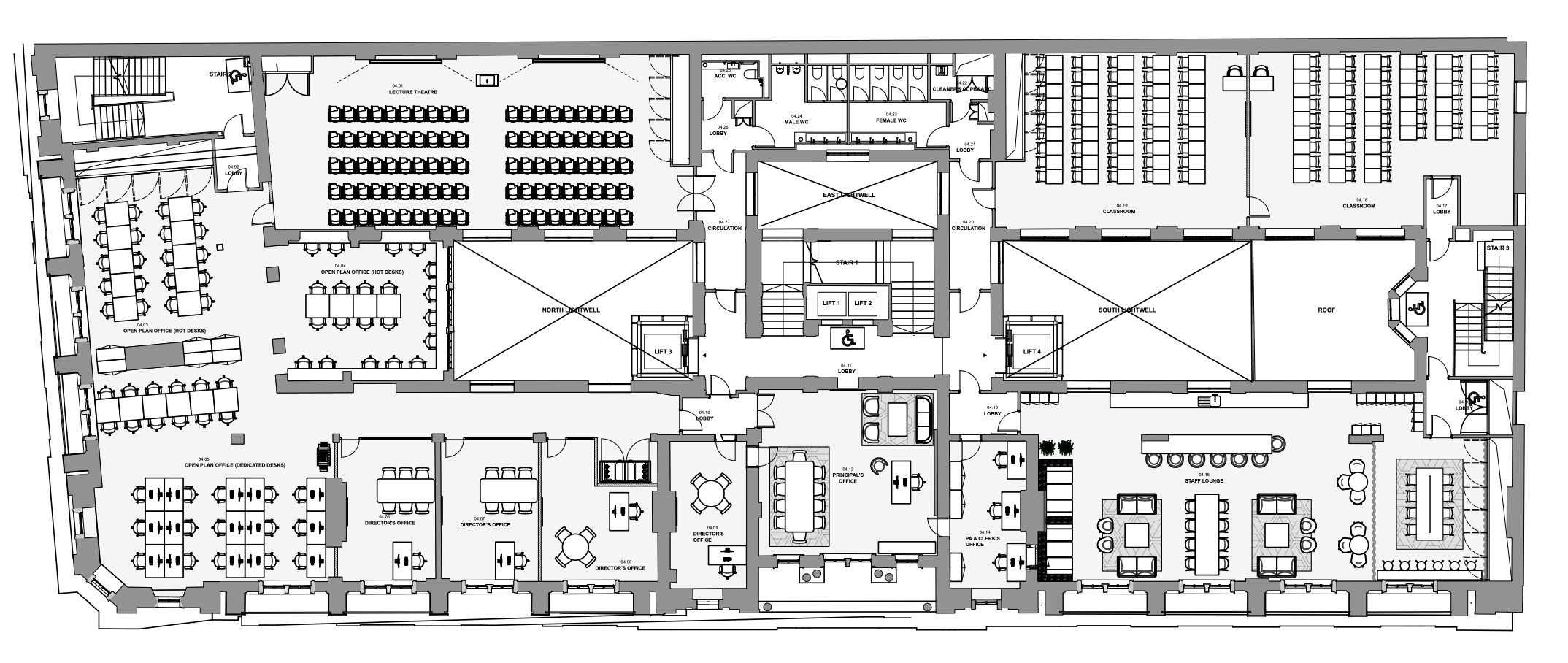 FOURTH FLOOR
Staffroom​
Principal's Office​
Directors' Offices​
Lecture Theatre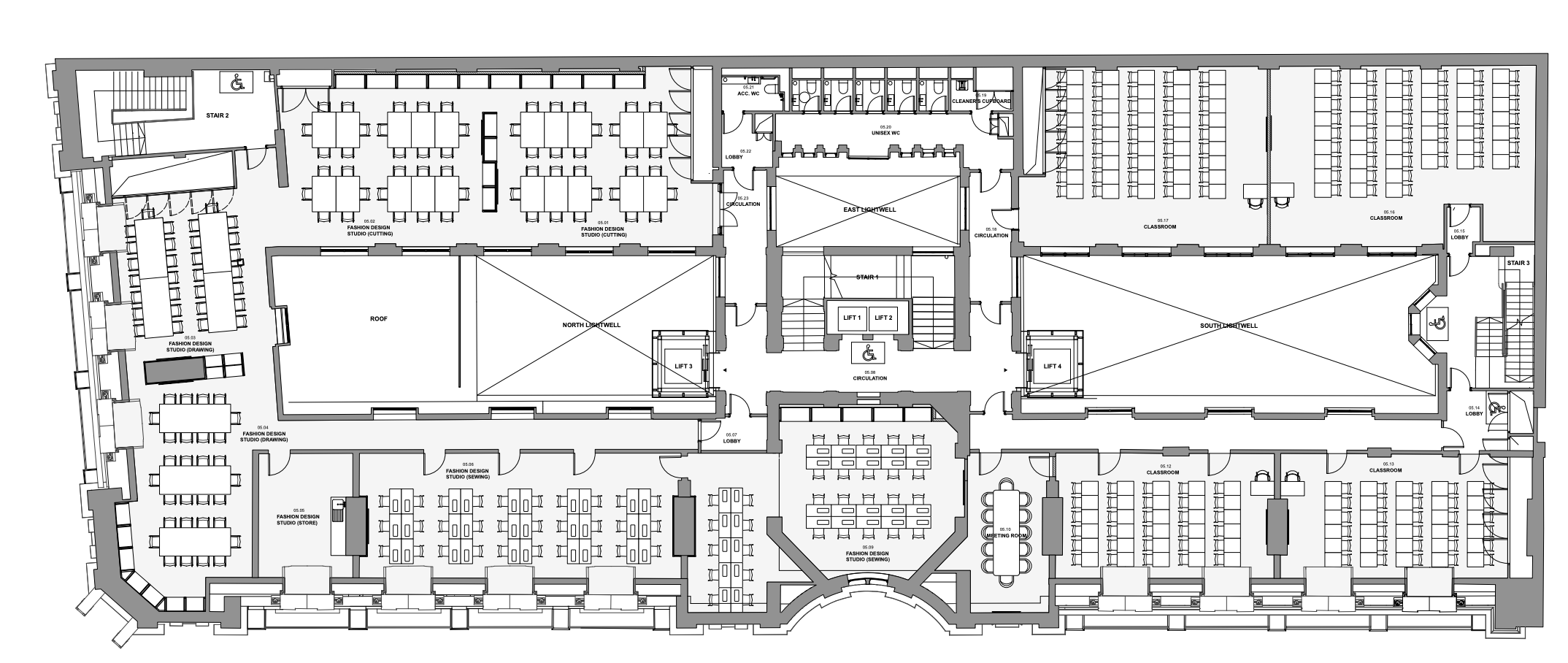 FIFTH FLOOR
Classrooms
Fashion Design Studio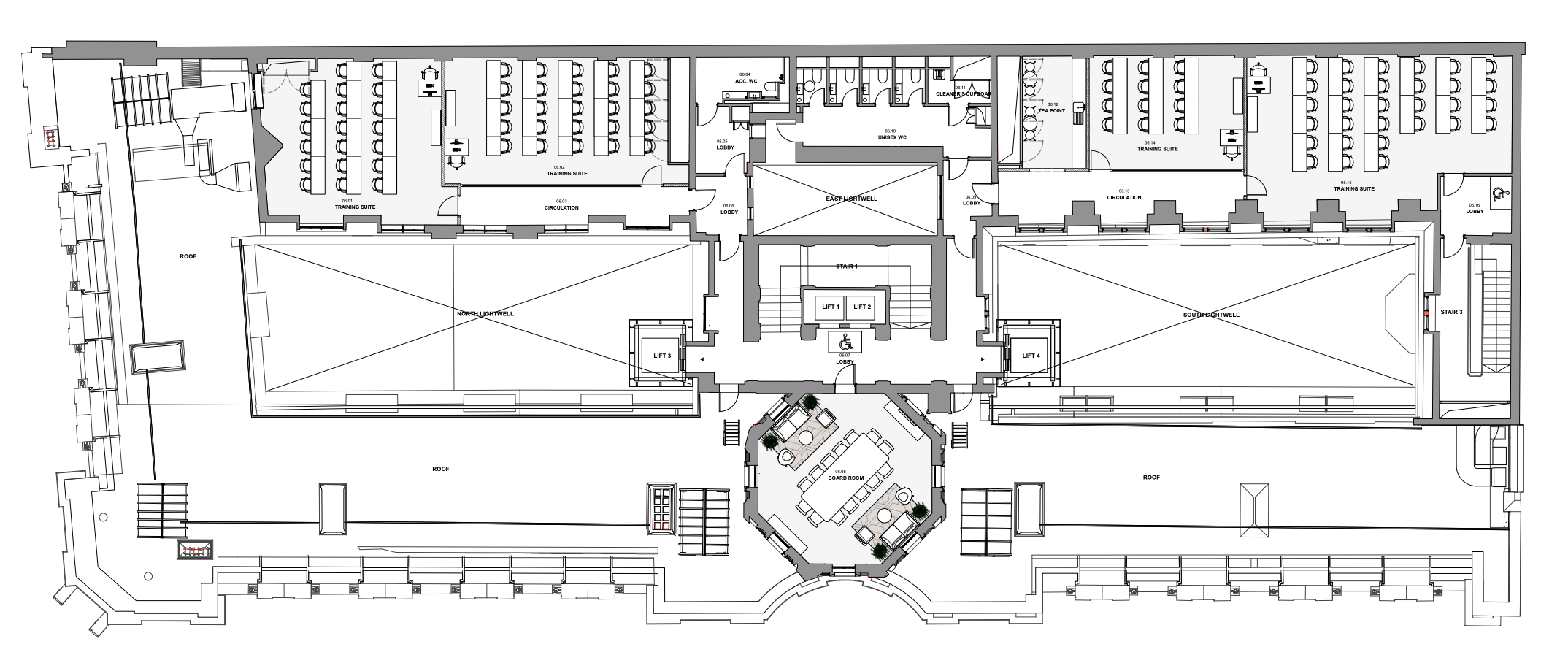 SIXTH FLOOR
Boardroom
Training Suites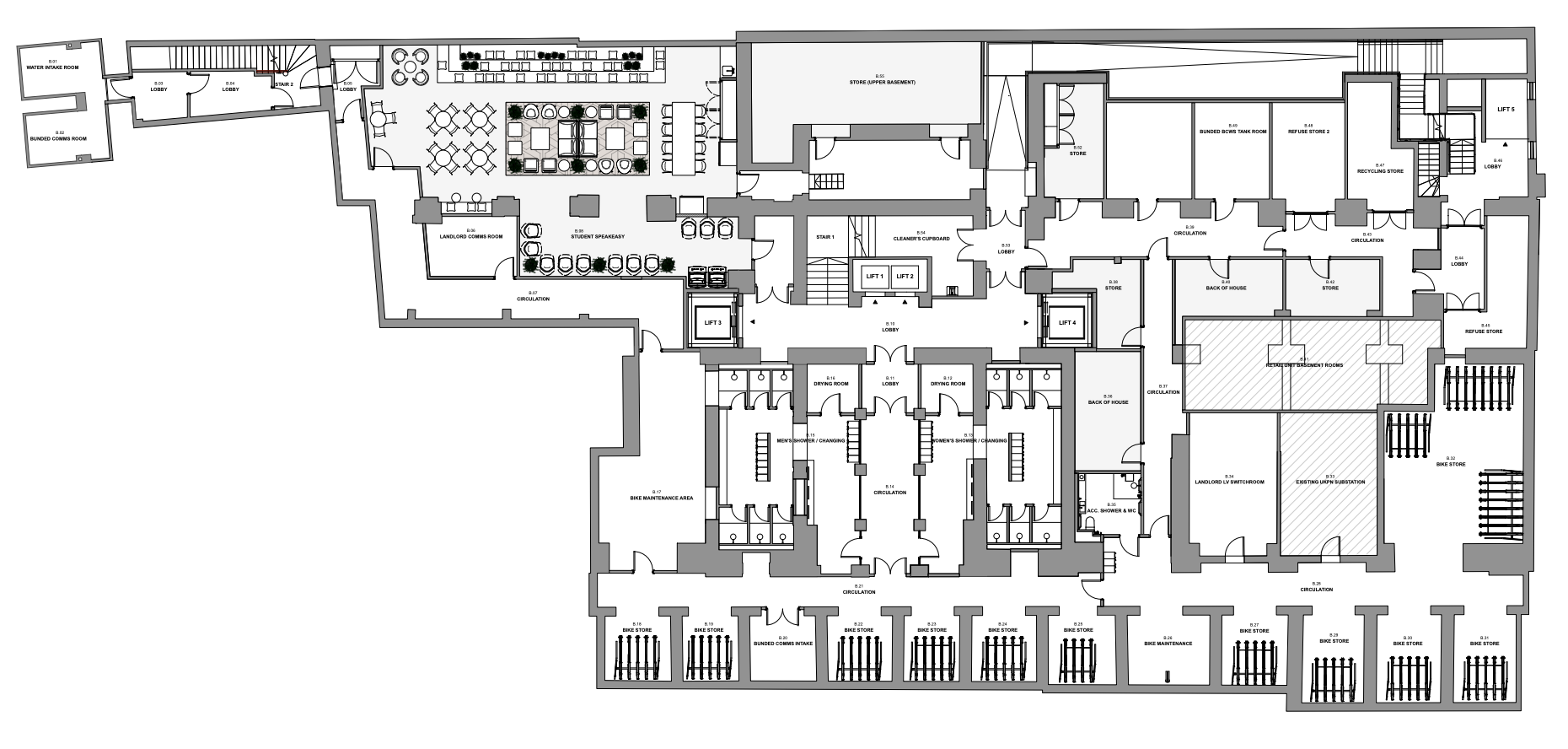 BASEMENT
"Speakeasy​" Student Common Room​
Bike Storage
Shower Facilities
Liverpool Street & Moorgate Area
---
Finsbury Circus Gardens
---
Finsbury Circus Gardens is just behind Electra House. This green space is the perfect place to enjoy lunch on a sunny day.
There are also lots of shops and cafes just outside our new building including M&S, Pret, Boots and Caffe Nero 
Broadgate Circle
---
Broadgate Circle shopping centre is next to Liverpool Street Station, less than a five-minute walk from Electra House. It has lots of restaurants, cafes and bars including The Body Shop, Space NK, Beany Green, Franco Manca, and Grind coffee.
To the South
---
Cheapside is just a 10-minute walk towards St Paul's Cathedral, with branches of Lush, Superdrug, Boots, Pret and Starbucks. You'll also find One New Change here, with shops including Zara, H&M and Accessorize.  
Why not buy your lunch and eat in the sunny church garden at St Paul's?
To the West
---
10 minutes to the west of Electra House is the Barbican Centre. The largest performing arts centre in Europe, you can see concerts, theatre shows and art exhibitions here. There's also a cinema and library.
The Brutalist estate and wildflower garden also make a great spot for project photoshoots! You could also book free tickets to the Barbican Conservatory, an indoor glasshouse full of tropical plants.
To the North
---
Around a 10-minute walk to the North-East of Liverpool Street, you can find Spitalfields Market. One of London's famous flea markets, it also has independent street food stands and shops including The Plant Warehouse and Benefit.
The cool vibes of Shoreditch are just a 15-minute walk or one stop on the Northern line from Moorgate. Here you can find trendy bars like Ballie Ballerson, Simmons and Barrio. 
To the East
---
Leadenhall Market is a 10-minute walk from Electra House. There are branches of Pizza Express, Tortilla and Nando's at this famous covered market - which also features in Harry Potter and the Philosopher's Stone! 
The Garden at 120 is also just a 10-minute walk. This free rooftop garden has amazing views of London, and you can take your own food up. Or you can see London from Sky Garden at the top of the Walkie-Talkie building. It's free, but you need to book a ticket in advance.