Take the next step in your education with a Level 4 Fashion Course in London. Ideal for those aged 18+, our Level 4 Fashion Diploma Courses are one of the fastest routes into the fashion industry.
At the Fashion Retail Academy, our Level 4 London Fashion Courses are some of our most popular courses for students wanting to work in the fashion industry. Unlike a degree, they are fully-funded by the government so you can study entirely free*. We have seven different Level 4 programmes that provide professional skills for specialisms including Digital Marketing, Fashion Business, Fashion Buying, Garment Technology, Merchandising, Visual Merchandising and Fast Track Buying and Merchandising.
Over 93% of our students are in employment or further education on completion of their Level 4 Fashion Course.
WHAT IS A LEVEL 4 DIPLOMA? 
---
A Level 4 Diploma Course is equivalent to the first year of a university degree and typically takes a year to complete. This means you can gain a higher education qualification without committing to a full 3 year course.
In England, Wales and Northern Ireland, there are 8 qualification levels. The higher the level, the more advanced the qualification is. 
At the Fashion Retail Academy, our fashion courses are between Levels 2 and 6.
Our Level 4 Fashion Diploma Courses are an excellent alternative to a degree. They're the equivalent of studying the first year of an undergraduate course.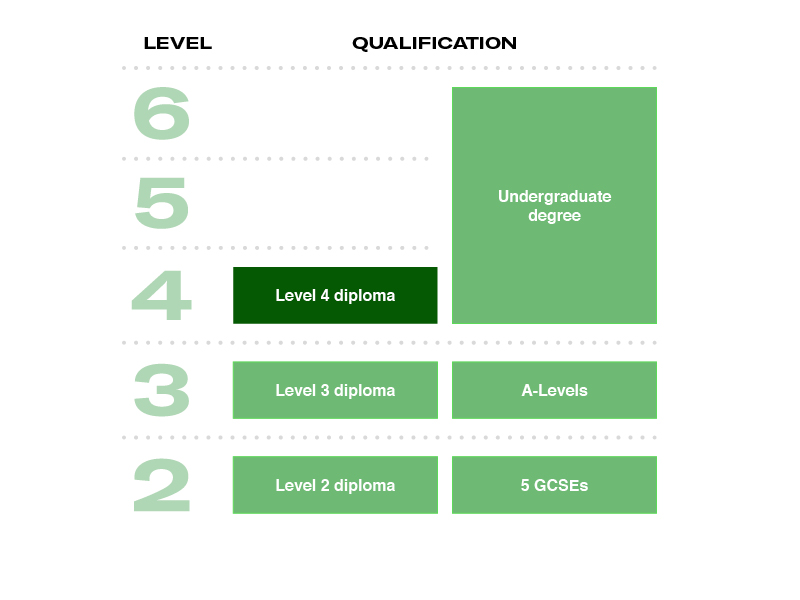 HOW LONG DOES IT TAKE TO STUDY A LEVEL 4 DIPLOMA? 
---
Level 4 Diploma Courses take 1 year to complete and offer one of the fastest routes into your dream career.
HOW MUCH DOES A LEVEL 4 DIPLOMA COST? 
---
Our Level 4 Fashion Courses are fully funded for 18-year-olds, so you won't need to pay course fees. 
If you're 19 or older, your course will cost £4,220 - much less than an undergraduate degree!  
Anyone aged 19+ qualifies for a government-funded Advanced Learner Loan to cover your fees. These work in the same way as student loans for university tuition fees, and you won't need to repay them until you're earning over £27,250 a year.
LEVEL 4 FASHION DIPLOMA COURSES WE OFFER
---
APPLY NOW FOR LEVEL 4 FASHION COURSES IN LONDON
---
Apply now and start your Level 4 diploma with us this September!  
LEVEL 4 FASHION COURSE STRUCTURE
---
At the Fashion Retail Academy, we structure our timetables over two full days a week. This means you can save money on travel to the Fashion Retail Academy, and you'll have plenty of time to complete homework, study or work part-time on your free days.  
Alongside your academic learning, you'll gain invaluable first-hand experiences from our industry partners and support in building your professional network. You'll benefit from a three-week industry experience working with a brand, either in head office or remotely. This is a great way to boost your CV and gain invaluable job insight. You'll also complete live projects set by brands and attend regular masterclasses from industry professionals.
We also offer 22-week Fast Track courses for adults 19+ wanting to retrain or boost their professional skills whilst working.
WHAT DO OUR STUDENTS SAY ABOUT STUDYING A LEVEL 4 DIPLOMA?
---
Opeyemi, Level 4 Digital Marketing for Fashion
"I chose the Fashion Retail Academy because it was the only fashion college that offered a Level 4 course like this - I knew I didn't want to do fashion design.  
I feel like I really flourished at the Fashion Retail Academy; I enjoyed every topic. My favourite was our industry project with COS - my group won that one!"
Any advice for new students? 
"Don't think you need to know everything before you start - I didn't know anything about marketing before I did my course!"
Ella, Level 4 Visual Merchandising 
"I chose to study a Level 4 because I was changing my career plans. I wanted to be sure fashion was the right area for me, and I didn't want to do a master's and be out of my depth. At the time, I was working at Selfridges, and they recommended the Fashion Retail Academy to me. My Level 4 course still really challenged me, so it was perfect! 
My course highlight was the second term project - which was more about the branding side of things. I chose Natasha Zinko, and I posted my work on Instagram and she gave it a like and comment! 
When I first left the Fashion Retail Academy, I went straight into a visual merchandising role at Reserved on Oxford Street. I used my final major project as a portfolio at interviews, and it helped so much."
Any advice for new students? 
"Network! That's one of the biggest things that's helped me - try to network constantly throughout the year. Getting to know loads of people in the industry is the best thing you can do. Through networking whilst I was studying, I got another role as Events Manager and now I've been promoted again!"
Claudia, Level 4 Fashion Buying 
"I chose the Fashion Retail Academy because of the direct links to industry. I'd already done some work experience at Next before I started my course. I loved working in the buying department, so that's why I chose my course. 
Level 4 Fashion Buying was amazing, it was the direct path into the industry I wanted. The highlight of my course was working with brands like Net a Porter and Selfridges - they stood out on my CV and helped me get a job really quickly. It was also nice to meet friends who were into fashion like me! 
Level 4 courses are good if you don't know what area of fashion you want to work in, they're a great stepping stone into the other areas of industry. You get a good insight into a fashion head office. Studying at the Fashion Retail Academy doors; I have friends who have decided to go into garment technology, designing and business management instead. 
I now have a job at ASOS as a Buying Admin Assistant for men's activewear!"
Olivia, Level 4 Fashion Business (with Marketing) 
"I chose to study at the Fashion Retail Academy because I knew other people who'd studied here and had a really good experience. I liked the idea of studying in London as well! 
I really enjoyed my course. I got to experience all different sides of fashion retail: buying, merchandising, visual merchandising, business. My tutor also put me forward for the 'Women in Dior' sustainability programme. It's quite exclusive so I was super excited to get on to it!" 
Any advice for new students? 
"Take every opportunity your tutor gives you! They can be so helpful getting you industry links and opportunities you didn't ever think you could get."
VISIT US OR GET IN TOUCH
---
Our friendly Applicant Services team is always happy to offer advice and answer any questions you have about studying with us. You can reach them by emailing info@fra.ac.uk or by phoning 0300 247 0039.
You can also visit us in person on one of our informative Level 4 and Undergraduate Open Days! 
*As long as you are 18 and a UK resident at the start of your course
WE'RE OFSTED OUTSTANDING
Don't just take our word for it – Ofsted has rated us as an officially outstanding college. Their report identified six areas of excellence.
SKILLS DEVELOPMENT
Learners develop the highest-quality, industry-relevant skills.
EXPERIENCE
A rich, varied curriculum and superb learning facilities.
TEACHING
Teaching is of the highest quality.
OUTCOMES
Progression into employment is exceptional.
INDUSTRY LINKS
Outstanding partnerships with employers and the fashion retail industry.
ACHIEVEMENTS
The achievement of learners is very high and for adult learners is exceptional.