Prepare yourself for higher education in the fashion industry with a Level 2 Diploma, equivalent to 5 GCSEs. Ideal for those aged 16 - 18, our Level 2 Fashion Diploma Courses are the perfect way to enhance your knowledge and experience of the fashion industry whilst receiving a qualification.
At the Fashion Retail Academy, our Level 2 London Fashion Courses are a great first step for those wanting an introduction to a wide range of roles and skills within fashion. Our Level 2 Fashion Courses are also fully funded by the government for those aged 16 - 18.  We currently offer one Level 2 programme that provides professional training in a wide range of specialisms including fashion design, buying, marketing and retail management. Our Level 2 Courses will also help you develop your teamwork, presentation, time management, organisation and communication skills.
WHAT IS A LEVEL 2 DIPLOMA? 
---
A level 2 Diploma Course is equivalent to 5 GCSE's grades 9, 8, 7, 6, 5, 4 or grades A*, A, B, C
In England, Wales and Northern Ireland, there are 8 qualification levels. The higher the level, the more advanced the qualification is.  
At the Fashion Retail Academy, our fashion courses are between Levels 2 and 6.
Our Level 2 Fashion Diploma Courses are a great next step for school leavers and those looking to get into the fashion industry in and around the London area.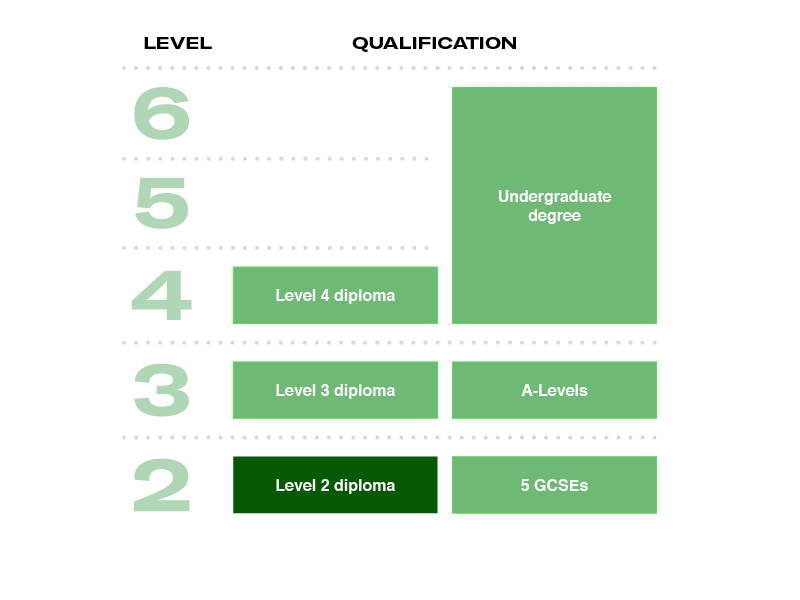 HOW LONG DOES IT TAKE TO STUDY A LEVEL 2 DIPLOMA? 
---
Level 2 Diploma Courses take 1 year to complete and are delivered over 2 days per week. (+1 day if additional Maths & English tuition is required).
HOW MUCH DOES A LEVEL 2 DIPLOMA COST? 
---
Our Level 2 Fashion Courses are fully funded for 16 - 18 year-olds, so you won't need to pay course fees.  
If you're 19 or older, your course will cost £4,220 - much less than an undergraduate degree!  
Anyone aged 19+ qualifies for a government-funded Advanced Learner Loan to cover your fees. These work in the same way as student loans for university tuition fees, and you won't need to repay them until you're earning over £27,250 a year.  
LEVEL 2 FASHION DIPLOMA COURSES WE OFFER
---
Level 2 Fashion Retail
---
Level 2 Fashion Retail introduces you to a wide variety of roles within fashion, from head office to store. It's a great first step for a career in the creative or business sectors of the fashion industry. Maths and English GCSE resits are included if required.
Find Out More
APPLY NOW FOR our LEVEL 2 FASHION COURSEs IN LONDON
---
Apply now and start your Level 2 diploma with us this September!  
LEVEL 2 FASHION COURSE STRUCTURE
---
At the Fashion Retail Academy, we structure our timetables over two full days a week. An additional day a week can be added to the curriculum if additional Maths and English GCSE tuition is needed. This means you can save money on travel to the Fashion Retail Academy, and you'll have plenty of time to complete homework, study or work part-time on your free days. 
Alongside your academic learning, you'll gain invaluable first-hand experiences from our industry partners and support in building your professional network. As part of our Level 2 Fashion course, you'll take part in projects set by our brand partners, which are designed to give you a deeper understanding of the industry and its current challenges.
WHAT DO OUR STUDENTS SAY ABOUT STUDYING A LEVEL 2 DIPLOMA?
Alex -Level 2 Fashion Retail
"My time at the Fashion Retail Academy was amazing. My teachers moulded me into an independent, creative, free-thinking individual and gave me the confidence to go out into industry. I would do it all over again, it was the best time of my life!"
VISIT US OR GET IN TOUCH
---
Our friendly Applicant Services team is always happy to offer advice and answer any questions you have about studying with us. You can reach them by emailing info@fra.ac.uk or by phoning 0300 247 0039.
You can also visit us in person on one of our informative Level 2 and Level 3 Open Days! 
*As long as you are at least 16 and a UK resident at the start of your course
WE'RE OFSTED OUTSTANDING
Don't just take our word for it – Ofsted has rated us as an officially outstanding college. Their report identified six areas of excellence.
SKILLS DEVELOPMENT
Learners develop the highest-quality, industry-relevant skills.
EXPERIENCE
A rich, varied curriculum and superb learning facilities.
TEACHING
Teaching is of the highest quality.
OUTCOMES
Progression into employment is exceptional.
INDUSTRY LINKS
Outstanding partnerships with employers and the fashion retail industry.
ACHIEVEMENTS
The achievement of learners is very high and for adult learners is exceptional.