The future is online: where can a career in digital marketing take you?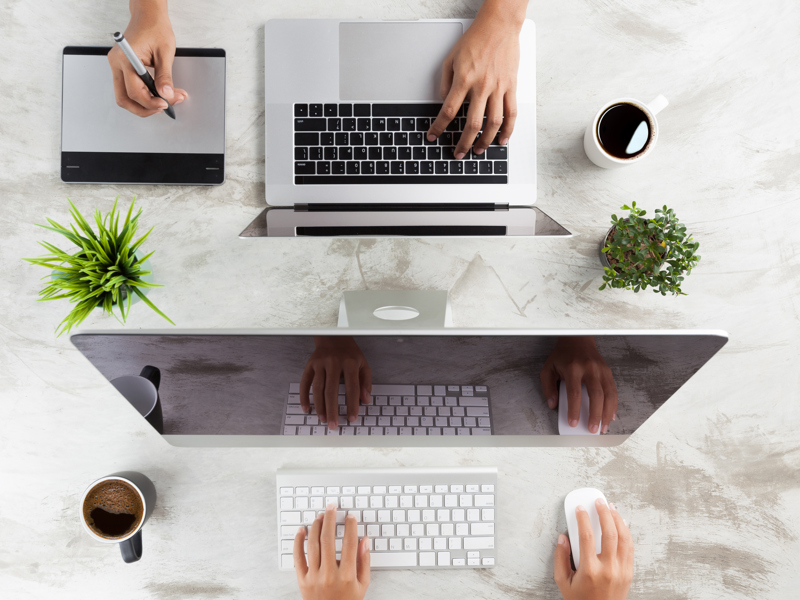 Recent studies have found that we now spend a whole day a week online – with a lot of us accessing the web more than 50 times a day. It's no surprise that the internet is one of the most important marketing channels that fashion brands have at their disposal.
Digital marketing presents many exciting opportunities for the modern label. As well as immersive online shopping features, the rise of social media influencers and platforms has created a new medium to sell clothes. Brands have become more aware of the power of the web and digital marketing is becoming a smart and future-proofed route for your future fashion career. Digital marketers are in high demand right now – in fact, 60,000 new digital and analytical roles are urgently required in fashion by 2020.
Wondering how to get started? We'll take you through the skills you need to succeed in digital marketing, the potential roles available to you, and most importantly – the routes which can get you there.
What is digital marketing?
Starting with the basics – put simply, digital marketing is any form of promoting a business online. This can range from a company's website to their social media channels and banner advertising. All of these methods combine to create a powerful marketing mix that taps into a highly engaged target audience across both computers and mobile devices. Digital is the only form of marketing which empowers brands to place their marketing efforts (quite literally) in the palm of their target audience's hand.
What skills do I need?
To succeed in digital marketing, a diverse selection of skills and interests are required. A solid understanding of the digital landscape and trends is hugely beneficial, as is a passion for quickly evolving technologies and social media platforms.
More than most other areas of the fashion industry, digital marketing moves at breakneck speed – a successful candidate should thrive in a fast-paced environment and be highly adaptable.
Additionally, digital marketing requires a balance of analytical and creative skills. Depending on which role you choose to pursue, you might be tasked with evaluating online sales figures and adjusting the online marketing efforts accordingly, or you might be designing website graphics and devising campaigns for social media. One thing's for sure: every day is different and exciting!
What jobs could I get?
There are a wide variety of roles open to you if you choose to pursue digital marketing as a career. Here are just a few of the most common areas you might work in:
Social media
It's likely you'll start as a social media assistant, reacting to customer queries, posting updates daily across platforms like Twitter, Instagram and Facebook, and creating imagery to be distributed across these mediums. As you progress, you might begin to devise and implement digital strategies in agreement with the specific brand's values and tone of voice. You'll be responsible for engaging with consumers online, reacting to global events and increasing traffic to the website.
PR, Blogosphere and influencer marketing
The rise of the "digital influencer" has been a growing trend in recent years. Individuals who have amassed a large online following represent a huge opportunity for savvy brands, as they can market products to an already switched on and engaged audience who trust their opinions. It might be your job to source such influencers and manage relationships and contracts, ensuring exposure through blogposts and video content. Similarly, in a PR role, you'll be responsible for securing coverage in online publications.
Content marketing
In a digital context, content marketing refers to how editorial can help to promote a brand online. An overall content strategy dictates how a fashion retail brand talks to its customers, through the copy on its website, email marketing and blog posts. If you work in content marketing, it's likely you'll be writing articles to increase awareness and reinforce brand identity.
E-commerce
E-commerce is the driving force behind online sales. This is the more numerical, analytical side of digital marketing, and regular tasks will include finding ways to boost traffic to the website from both direct and indirect sources, increasing online leads and using analysis to produce forecasts and enhance strategy.
SEO and PPC
SEO (search engine optimisation) is the practice of helping a brand's website to appear highly in search engines like Google. The higher they rank, the more visible they are to a wide audience. PPC (pay per click) is a specific type of online advertising which aims to encourage click-through to the site from other parts of the web.
How can I get there?
Interested in a career in digital marketing? The only question is how to take it from a dream to a reality. The first step on the ladder is to gain the skills and experience you need with a course at the FRA. We offer a range of highly specialised diplomas and degrees at our campus, based in the centre of London. All of our courses are designed to arm you with both the knowledge and hands-on experience you need to secure a career in your chosen field.
L4 Digital Marketing for Fashion
Delivered two days a week over a year, the L4 Digital Marketing course is designed to prepare you for an entry-level position in this area. The flexible teaching methods allow you to keep working part-time whilst simultaneously advancing your career.
The course is wide-ranging to give you a comprehensive overview of digital marketing as a whole. Topics covered include imaging software, content and email marketing, SEO and how to measure metrics. Creative elements will merge with more analytical skills to give you a broad idea of how online channels can be used to promote a company, attract new customers and forge a brand identity. You'll learn how various digital marketing functions fit together and complement each other to boost sales, meaning you can start to think about the specific area you'd like to pursue.
This course combines theoretical, classroom learning with hands-on experience to ensure your education is fully rounded. As part of this, you'll have the opportunity to undertake a three-week work placement with an established high street brand to put your new skills into practice. This "real world" experience is designed to give you a real insight into the challenges and opportunities the digital landscape currently poses for the fashion industry. You'll also attend masterclasses from market leaders like ASOS and NET-A-PORTER to learn from the best in the industry.
Ready to take the first step in your fashion retail career? Find out more about our L4 Digital Marketing Diploma.